Have I told you that I love technology and new toys?
I'm not addicted to buying new tech (though my wife thinks otherwise), but I am fascinated with what I can create with them. All of the tech that I own serve a purpose. Let's take a look at my tech toys:
DJI Phantom 4 drone
Fun. Intelligent. Underrated. Just a few words to describe my drone. I love the camera, the ease of use, and the technology inside my drone. It has sensors in the front to prevent flying into objects, and it remembers where it took off from so it can return to that spot if the battery runs low or if you want it to return to you.
 I can't stop making videos and exploring the world around me. I received my DJI Phantom 4 drone for Father's Day in 2016, and it is one of the best presents I have ever received. Having a drone makes me look at my surroundings differently because I am always looking for the next place to fly and capture the beauty around me. Here is a YouTube playlist with my drone videos.
Apple iPhone 7 Plus
I bought the "Black Lives Matters" 256GB version of the iPhone 7 Plus. I record video on my drone and I import RAW and JPEG photos from my DSLR to my phone for quick edits, so having more memory makes it less of a hassle. I love the iPhone 7 Plus' dual speakers, large screen, and amazing cameras.
Nikon D7000
This was my first "real" camera, and I left it on AUTO for the first five years of owning it. I was happy to have it, but I never made time to learn how to use it. By the time I learned how to use this camera I realized that I needed more than what it could offer me.
I used three lenses with my Nikon D7000. I had the kit lens 18-105mm, 55-300mm, and the 35mm f1.8 and that was my favorite. The 35mm lens was an all-purpose lens for me, and I love how it performed in low light situations.
DJI Osmo Mobile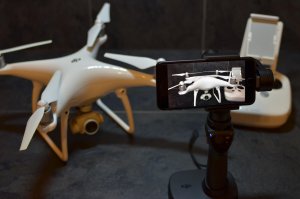 I bought the Osmo Mobile a couple of months ago because I wanted a better way to record video without it being shaky. I love the DJI Go app because it also has other camera features within like motion time-lapse, assisted panorama functions, and long exposure. When I use the Osmo Mobile in public, people often come up to me asking what kind of selfie stick this was. For a second I feel disrespected, but then I remember that the person is not familiar with the product and this creates an opportunity for me to educate them. "Selfie sticks cost $3 and this mobile phone stabilizer costs $299." Here's a video talking about why I bought the DJI Osmo Mobile.
Thanks for taking the time to read this. If you like my content and my videos then please hit the LIKE button and SUBSCRIBE to my YouTube channel.